North America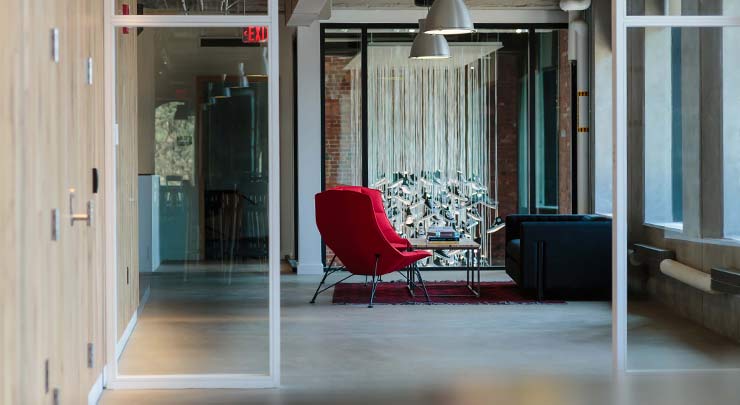 Lovejoy
Walking into Converse World Headquarters at Lovejoy Wharf in Boston, MA is similar to stepping back in the brand's 100-year history. More than 600 employees work in the Lovejoy building, which is a designated historic landmark. A renovated candy factory built in 1907, it looks over Boston's historic North End neighborhood. Employees at Lovejoy work across areas like management, design, development, marketing, sales, legal, finance, merchandising and other administrative functions. With a diverse blend of collaborative workspaces, Converse employees have areas suited to every need. Nearby is the separate cutting-edge research, design and innovation space called The Lab, where new materials, products and technologies are tested on a daily basis.
Converse WHQ is home to an employee fitness center with daily fitness classes, a yoga studio and the employee-run Gallery, which features Converse employee artists and their work on a rotating basis. The Converse retail store at Lovejoy Wharf sits outside the building, as does the Converse Rubber Tracks recording studio. The Boston studio is one of 12 worldwide that allow emerging musicians of all genres to apply for free studio time.
Surrounding Converse WHQ at Lovejoy are constant reminders of Boston's rich history dating back to the 17th century and its equally deep legacy in sports. Sitting mere steps away is the home of Boston's professional basketball and hockey teams, as well as Boston's North End neighborhood. The North End is the city's oldest residential community with a vibrant Italian-American population, fine Italian restaurants and the original home of Paul Revere.
Europe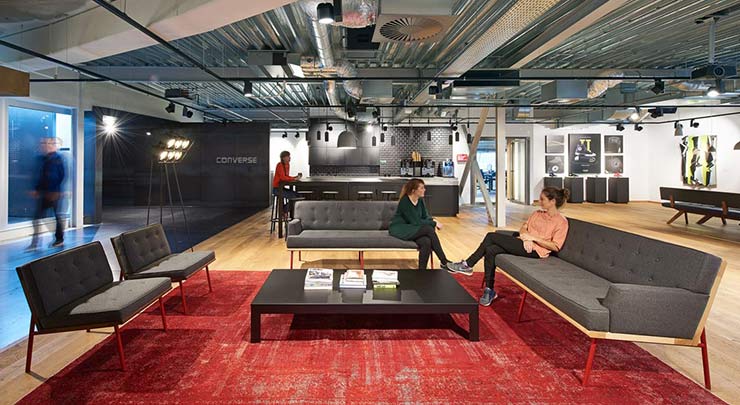 Hilversum
Converse's European Headquarters are located in Hilversum, The Netherlands, just 16 miles southeast of Amsterdam, one of Europe's most diverse and exciting capitals. Sharing a campus with Nike, Inc.'s EHQ, Converse employees from all over the world join to support the brand's operations across Europe. The offices in Hilversum were designed around the unique needs of each team and with an eye on collaboration. With team areas built around an energetic central hub, employees engage with each other in a variety of spaces including lounge areas, focus and meeting rooms, collaboration areas and an outdoor terrace.
Employees also benefit from extensive, world-class sports facilities including a gym, football pitch, tennis, volleyball and basketball courts, running tracks and daily fitness classes, including cross-training, boxing, spinning, yoga and more. Departments include marketing, communications, digital, technology, human resources, finance, legal, merchandising, retail and sales.
Just 16 miles away, the vibrant city of Amsterdam boasts all the advantages of a world-class city: rich culture, exciting nightlife, great shopping, international restaurants and outstanding museums. Amsterdam's compact size, cycling lifestyle, diverse population, English-speaking residents and reliable public transport system make it an easy place for relocation. Amsterdam is regularly rated as one of the world's best cities to live in and for its high quality of living. The family-friendly city features endless activities for children and is recognized as one of the world's safest cities.
Asia Pacific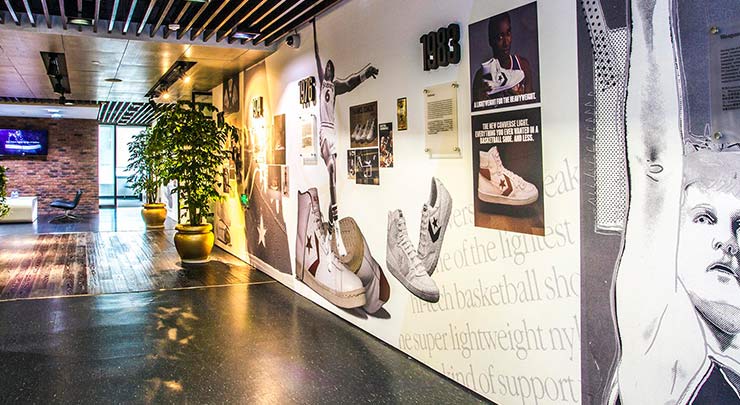 Shanghai
Located in China's largest city and global financial hub, Converse's Shanghai office serves the Greater China market. Sharing the Nike Greater China Campus with Nike, Inc. employees, those working at Converse in Shanghai have the benefit of a dynamic environment befitting the region. Open and light-filled workspaces and cutting-edge technology are a few of the workplace features, with the entire campus meeting LEED Gold standards. Converse employees work across departments including: product, design, commercial/retail, marketing, digital, supply chain operations, finance and other administrative functions.
The Shanghai campus features a fitness center with regulation-size athletic courts, full-service dining, a Nike, Inc. employee store and a comprehensive transportation program. Across the street from the campus is the only urban wetland park in all of Shanghai, covering a total area of almost 75 square miles. Just a 10-minute drive from campus is the largest skate park in the world, spanning 44,936 square feet.
Shanghai is the world's most populous city and a symbol of China's booming economy. Renowned for its Pudong skyline with soaring skyscrapers, temples and peaceful gardens, an extensive public park system and being the birthplace of Chinese cinema, it is the home of a thriving modern Chinese culture.